Well-known member
Callsign: KN4KFS
Updated (Jun 11)
:
Added Pics of cargo mat, dog guard. Added QT Front diff guard.
---------------------------------------------------------------------------------------------------------------------------------
After 14 years (and 140K miles), the end has come for my Rover. It's served me and my daughter (for the last 6 years) well, but it's done.
The rust bugs got it (the rear frame is flaking badly, too). The end result of it's first 9 years living in Michigan.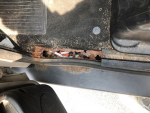 I'm doing a selective parting out - meaning if it's going to be a giant hassle for me to get to the part, I'm not doing it. Big items (bumpers, seats, etc.) are pick-up preferred, but I'm willing to travel ~2h from Bristol TN (Roanoke, Knoxville, etc) for $50 to deliver or meet. Shipping for everything else will be added to the cost/negotiable.
That said, ask for anything you want. I'll be willing to sell the whole thing for $2000 (it runs/drives and is registered through Nov), but note that it is going to be a serious project car at worst, a parts car at best. The last few years have basically been band-aiding it and general maintenance to get it through my daughter's college years.
Here's a partial list of key things that I know people might be interested in (prices are neg):
The Good:
Hard Labor Creek Front Bumper
- $800
Stout is an understatement (my daughter t-boned a car that ran a stop - totaled the car, scratched the bumper). $800 (Prefer pick-up, can meet/deliver for $50)
Hard Labor Creek Sliders
- $250
Some rust on the drivers side. Still HLC stout.
Greg Davis Rear Bumper
- $500
This has two back up LEDs lights installed/wired. I don't have the side wings installed, but do have them (unpainted).(Prefer pick-up, can meet/deliver for $50)
Seats
- Front Psgr ($75), Rear $150
The front passenger and rear are near perfect; psgr heating element still works. Driver's seat is worn; element does not work - that's free if you come get it.
Dog Guard (Mesh-style)
- $75
I have the dog guard and hardware; I do not have the pattern for the cut outs.
The Meh:
Rear Cargo Area Mat
- $50+
Original Land Rover Mat. Uncut, but the "precuts" separated and were put back together with rubber cement 7 years ago. Still very functional. I also have the rear seat original LR mat - pay shipping and it's yours. The front mats are worn out.
Headlights
- $50 each
They work. A bit hazy, but can be polished.
OME 2" HD Springs and Shocks
- ??
The suspension is 8 years old (about 50K). Shocks are ok, a bit of a lean to the drivers side.
The bad:
Front Passenger Seat

Engine
- The engine has a coolant leak at the back of the driver's side head. It's external, not internal (no effect on compression). It's been like that for 4 years; the daughter has kept the coolant topped off. Engine runs fine. If you really want the engine, I'll sell you what's left of the car after the part out with the engine for $500 - you can sell the carcass for scrap (and recoup the $). Or, if you really want, you can come to my house and pull the motor (I've got a hoist and will help). I'm not pulling the motor and shipping. Note also: The VIN falls in the range of the exploding oil pumps, but it made it 14 years, so...
Transfer Case
- Not locking. Leaking (internal seals). Really not keen on pulling that. You want it, you come pull it.
The Ugly:
Paint is wind warn on the hood/roof.
Windshield leaks
Rusted out floor board/door sill.
Lots of rust underneath.
Last edited: