I suppose it's a little bit of both for most now, but whatever. Keywords, and all. We are trying to peg a later "light Buick bluish greenish sea-foam" color, and this happened. I kind of dig it: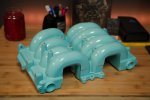 Not bad for a "let's just see what happens" two-stage finish with a new primer. It's probably a bit strong for that particular part, but might not be too bad; certainly not on valve covers if we can get the color nailed down. It's kind of neat as-is, though. I've certainly seen many worse attempts at that color, but this was our first try with what they had on hand.
You're only seeing flash because we didn't bother pulling the bolts and I just picked it up when dropping something else off before they finished it up. I'll handle the feathering around the edges while watching TV later. Regardless, this is something you probably haven't seen.
Cheers,
Kennith