I put this together (mostly cut and paste) from a write-up that was shared with me a couple years ago.
Materials Needed:T30 Torx head, Needle Nose Pliers, Large Phillips, Small Phillips, Small flat head, WD-40, Socket Wrench, Beer, Patience. I ordered my springs from the ebay seller in the UK. It only took a week or so to get them.
The rear door cover is removed by first putting a socket on the handle and removing the 2 bolts.
Next pull on the door handle to access the small screw that holds the black cover for the door handle.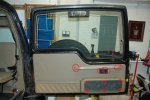 Use a Phillips to remove the 6 bolts holding the screen on the sub woofer . Use a Phillips to remove the bolts that hold the subwoofer surround on. Unplug the harness that holds the subwoofer. It should look like this: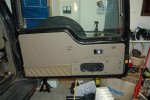 Use a large flat head screw driver to pull the door studs out. Some will break but if you are careful maybe not many. Work your way under the door skin and one at a time wedge the studs out.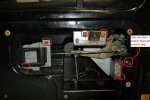 Unscrew these 7 bolts and save the parts. The one I marked has a small red washer on the other side. Make sure you save this to.
Last edited: