I had these wheels on my D1 a few years back but saved them when I sold it in hopes I would get another but plans have unfortunately changed.
You all know this wheel as the spare that comes as the factory spare. They will fit the D1 and RRC. It is an extremely stout steel wheel. I have a set of five of them that I collected from around the web. These wheels are in really great shape. They were painted black when they were still in use. They could use a good cleaning but otherwise they are good to go.
I would really prefer to do local delivery. I am willing to meet the buyer up to 2.5-3 hours from the metro Detroit area. If this is the case the price will need to reflect this extra effort on my part.
$400 + Shipping. I am definitely open to offers so if you are interested let's talk.
Otherwise, shipping will likely be through NEX shipping and will be between $150-$300 depending on how far they are going
Thanks!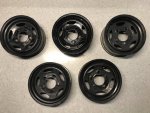 Last edited: