This is my Disco: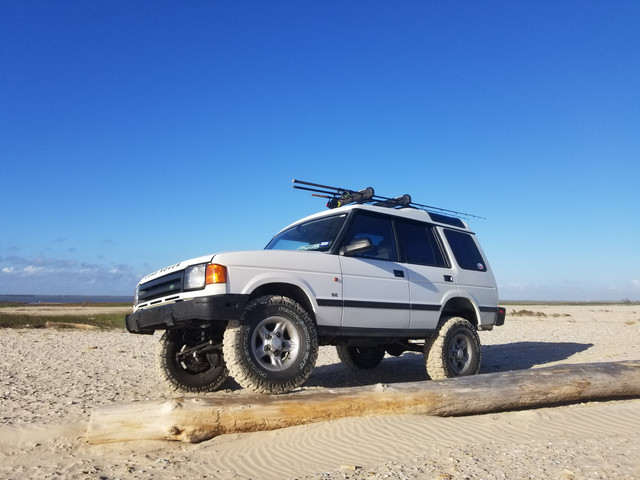 It's been a dream of mine for many years to own one, despite their reputation. I needed a dedicated 4wd to explore the coast for good fishing spots, and it seemed like the perfect time to make my dreams come true.
Since purchase I've done the following:
All fluids changed, new trans filter
Oil cooler lines
Swivel ball and front axle seals
Front pads and rotors
SS brake hoses
Front wheel bearings
Right bank exhaust manifold gasket, manifold to y-pipe gaskets
Cat back exhaust
Accessory belt
Upper and lower radiator hoses and overflow bottle
180* thermostat
2" Terrafirma Medium duty lift
LED headlight bulbs
New stereo head unit
Rear ladder install
Fuel pump to tank seal
I'm sure there are things I'm forgetting, but it's been quite the "little" project. I have two prevailing issues that I cannot seem to clear up:
1st - Especially after sitting it has a very high idle. If I reset the adaptive values it goes back to normal and idles fine. It's annoying to have to reset the adaptive every time I go to drive it
2nd - This is a little newer, but the trans has started acting funny, especially at low speeds. When starting from a stop at low throttle inputs it seems to jump in and out of gear a few times before it finds itself and takes off. Also recently it's developed a bit of a clunk/shudder/"event" when coasting to low speed from cruise. I don't really know how to describe it. I replaced the old fluid with Dex 6, and installed a new filter, there wasn't much junk in the pan when I took it down, and the fluid looked old-ish, but not
ancient. The current fluid looks nice and pink, no bad smells, no evidence of excessive clutch material, level is good checked idling in neutral when cold.
Any advice is greatly appreciated. Thank you in advance!