Hi all,
I'm apologizing if this has been asked before, but I can't seem to find the answer.
My 04 Disco started to show the red brake light on occasionally on the instruments panel. It is on for a day or so, and then it doesn't show up. Then It does go off again.
Also I hear a warning sound every once in a while if I hit the brakes intensely every once in a while.
MY understanding is that the three amigos where fixed from factory on the latest models (but I might be wrong).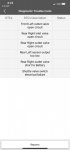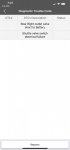 First capture from the iLand is before re set the error codes. Second one was after a week of re setting the codes.
I am planning to check all the connectors and see if amperage is adequate. Do I need to try to change the shuttle valve or the whole ABS module?
Wheel hubs? They were fine when I changed pads and rotors 2 months ago.
Educate me.
JP '