1995 Land Rover Discovery 300Tdi R380 – Saudi Spec
Location: Sheboygan, WI. Wisconsin title free & clear.
Total mileage unknown. Tdi close to 100k with rebuilt less than 8k mi. ago.
Price: $19,000
This Disco is well known in the Rover Community and has been a joy to own. The truck was initially built by Scott Preston, and then changed hands a few times before coming under my ownership. With the help of Zack Griswold at Rovers North (truck is featured on website), Great Basin Rovers, Ashcroft, Eric Riston at Atlantic British, and quite a few others, it has been brought to the next level.
The truck has all receipts and records dating back to 2017, and most receipts and records dating back to the professional conversion in 2011. One binder for parts, one binder for service, and a handwritten journal of all services performed. Maintenance is current.
1995 Land Rover Discovery 1 300 TDI 5-speed manual (7 passenger), no sunroof. Arles blue w/ white roof, gray interior. A/C blows cold. Generally rust-free except for a few places where noted in the exterior section below. The truck has no ABS, airbags or factory traction control (Saudi spec).
I have a matching adventure trailer for sale here
.
Engine
Professionally converted in 2011 from V8 to 300 TDI by Cityside Garage in Holliston, MA and drives like a factory install. TDI has 78k when installed and has covered 22k since conversion. At the conversion the engine received a new timing belt, new injectors, glow plugs, glow plug timer, new tensioner bearing, water pump, lift pump, PS pump, power steering box, all new belts and hoses, silicone turbo hoses, new rear main seal and front cam seal, rebuilt injector pump, rebuilt alternator, full stainless steel exhaust, new engine and gear box mounts, and a Mantec Snorkel.
I did another timing belt in 2017; next one is due in 22,900 miles. I added a boost gauge and EGT gauge and had the motor tuned by 4x4 Center in Burlington, Vermont in 2017. In 2018 the old plastic expansion tank cracked on me due to excess pressure from a partially clogged radiator. The result was a blown headgasket, so a rebuild was performed with a Turner Engineering gasflowed head. During this project I ordered and installed an Allisport expansion tank, Allisport intercooler and Allisport radiator, along with tracking down a nearly impossible to find 300TDI fan shroud from the UK. New starter, brake vacuum pump, and oil cooler pipes in 2019.
Drivetrain
Has rear u-joint style driveshaft, rebuilt in 2019. Has front double cardan driveshaft with aluminum adapter, rebuilt in 2019. Front swivel balls were rebuilt in 2018. All new wheel bearings, races, and hub seals, in 2019.
Ashcroft LT230 1.1 ratio transfer case with HD Cross Pin, high capacity sump, and sleeved casing with less than 200 miles on it. Ashcroft 4.37 ring and pinion with ATB limited slips front and rear installed in 2019. Drives composed on the highway up to 68mph.
Gearbox
R380 5-speed. New slave in 2018. New clutch kit, resurfaced flywheel, throwout bearing, and fork lever installed in 2014.
Brakes
Brake overhaul at Rovers North inc. new rotors, calipers (Defender 130 rear), master cylinder, pads in 2017. +40mm stainless steel brake lines front and rear. New fluid in spring 2020.
Suspension
Old Man Emu heavy duty springs front and rear, OME nitrocharger shocks, F tubular shock towers, terrafirma lowered rear upper shock mounts in winter 2013.
Heavy duty cranked trailing arms and bushings, rear coil dislocation cones in 2017. Defender style steering stabilizer relocation in 2018. Heavy duty steering arm kit in 2019.
New bushings and 45 degree top link in 2017.
Interior:
Swapped, restained dash to fix dash curl with no airbags, no ABS. Gauges read in KM/H with all correct glowplug lights and no unleaded logo. Front door window lift arms, door handles, Exmoor seat trim foam, ignition key tumbler, rear aluminum door panel, clutch and brake pedal pads, and all door actuators replaced between 2011 and 2014. Entire floorpan covered in gray monstaliner in 2014. Cloth interior and 1994 style manual seats.
Dynamat and matching gray mildew resistant insulation, padding and carpet professionally added with gray Exmoor seat covers front and rear in 2018. No rips or tears in seats or carpeting.
Headliner in great condition.
Electrical/Communications:
Trailer harness installed in 2018. Bluesea fusebox installed under hood in 2019 with 6 switched and 6 full-time fuses. Prewired for fridge using Anderson Powerpole connectors with harness in between glove box and passenger seat (fridge not included). [15a fridge, 15a Ham, and 7.5a sub fuses currently removed]
12V NOCO sockets installed in glovebox and back seat (for charging devices), new Bluetooth radio, phone mic, speakers rewired, and Bazooka bass tube added in 2019. Audio sounds great. New owner can choose where to permanently mount the Bazooka bass tube, however wiring is run with harness in between center console and passenger seat.
Hella lights on roof wired to factory fog light switch in dash. PIAA sports horn.
Truck comes with a Cobra CB and Wilson magnetic mount antenna. Also included is a Midland GMRS radio and original magnetic mount. Prewiring for HAM radio is done and I'm leaving the diamond magnetic antenna mount in place and have attached a NMO style antenna for the GMRS radio. The next owner can either hook up the GMRS radio to the more powerful diamond base/antenna with a jumper and 1' of coax, or can install a HAM Radio to the diamond base and swap on an appropriate antenna.
Exterior:
The truck was repainted Arles Blue in 2012. The doors and frame were coated with Crest Honey Coat in 2011, and Rover's North completed a full Waxoyl service in 2017. The truck has small rust spots on the front sides of the rear wheel wells that have not grown during my ownership, and the rear trunk pan is starting to show some corrosion at the seams, visible through the gray monstaliner. The rear fuel pump shows some corrosion, however the source of the rear water leak is believed to be addressed. The roof seam has some dings from the PO, but I have new hard-to-find plastic trim pieces to install when repaired that come with the truck. The alpine windows have some minor bubbling at the lower seals but do not leak.
The truck comes with a safety devices roof rack with custom billet aluminum mounts, repainted rear ladder, 5 white Wolf military steel wheels, 5 BFG KO2's 235 85 16 – lots of tread left, winter tire chains, repainted Rovertym winch bumper with steering guard (not installed) and Superwinch Tigershark 9500 (sealed) 2018 w/ synthetic line.
It has a Galvanized Gas Tank Skid, saudi spec front grill, hood blackout decal, HD rear bumper with pintle hitch – 2018, and new silver Land Rover badging installed in 2018. I just repainted the Rovertym sliders this January. I put a new windshield and seals in in 2017 and all new door seals in late 2019.
The sheet metal on this truck has character. There are dents and scratches but doors and windows are operational.
The bad:
The truck lets in some water into the passenger footwell in heavy rain
Manual door locks (central locking disabled by removal of driver door actuator)
It has been modified for off road use and has some dents in the sheet metal.
FM Radio antenna needs replacement.
Cruise control and rear wiper don't work (never did in my ownership)
Observers will notice there is not a rear driver side seatbelt installed. It will be there prior to sale.
Not included:
MaxTrax + mounting pins
Patches on roof
Hilift & mounts
Wireless brake controller (unless you purchase the trailer)
More photos available here.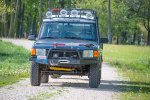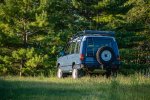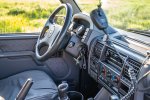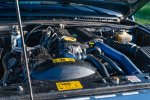 Last edited: