1998 Land Rover Discovery I
I'm the original owner of La Poderosa (the powerful one). She had 8000 miles on it when I bought it from Newport Beach Land Rover in November 1998. I have replaced or upgraded almost everything on this rig over the years. She tracks straight, and rides like a luxury vehicle. She has been all over the place offroading on overland trips as well as difficult/technical rock crawling and has never left us stranded in bad place. I've taken care of her and she has taken care of us.
12,000 miles on the third motor (4.0L)
10,000 miles on rebuilt transmission
Magna flow cat-back exhaust
Falken Wildpeak MT 33x12.5-15
15x10 Steel Wheels
450,440 miles on odometer
Suspension
Front: Old Man Emu Shocks, and 3" Old Man Emu heavy duty springs
Rear: Bilstein 7100 reservoir 10" shocks, 3" Old Man Emu extra heavy duty springs, Rovertym cones
Rovertym 2" Body lift
Extended steel braided brake lines
Rovertym rear offset arms
Rovertym castor corrected front links
Steering
Heavy duty drag link w/custom Bilstein steering stabilizer
Heavy duty offset tie rod
Upgraded to GM steering pump
Armor
Rovertym rocker panel guards(rock sliders)
QT front and rear differential guards
Rovertym front bumper with WARN XD9000i winch (winchline and hooks not incuded)
Rovertym rear bumper
Differentials/Drivelines
Heavy duty rear axles
Rear Detroit locker and Front ARB air locker w/air compressor
Heavy duty drivelines w/double cardon joint in front
Accessories
Dual Batteries w/ 3 position selector switch
ARB Safari snorkel
Ham Radio Yaesu FT-8800R VHF/UHF radio w/ Diamond antenna NR770HAB
Cobra CB radio
Safety Devices roof rack
60" Hi-lift mounted on roof rack
KC Hilites HD lights on front bumper, KC lights on front of roof rack(not wired), KC flood light on rear of rack
Land Rover factory rubber floor mats
Ultra Gauge to monitor engine function
Transfer case solenoid is bypassed
Anti-lock brakes have been disabled
1 set of snow chains
Extra parts
6th wheel for a second spare tire
ECU
Spare differential
D2 front shock towers
2 x 7100 Bilstein reservoir 10" shocks
Rovertym shock adapters for front
Complete spare set of front axles
Complete set of cooling hoses including transmission lines
Water pump
Coolant expansion tank
Spark plugs & wires
Oil filter
Fuel pump
Thermostat
Switches
Fuses
Steering shaft
AND more
Next service:
Replace fan clutch and thermostat. They are fine but I like to perform preventative maintenance, so that we don't get stuck on the trail.
Replace bank 1, sensor 1 O2 sensor. I have been getting an occasional pending trouble code.
Deficiencies:
Driver's seat has a tear at left side, all other upholstery is in great shape.
Headliner needs replacement
Right rear brake light
Heater core has been bypassed
Rust around the alpine windows
Hood and roof need paint
Windshield washer reservoir and pump inoperable
Cruise control inoperable
Shifter bushings for transfer case - loves to be high range, low range, and low lock, but not high lock
Driver side seat switch panel tabs are broken off - all seat switches work
Radio is inoperable
Cracked windshield
Price: $12500 obo.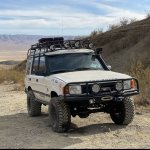 Last edited: