UPDATE: Between Photobucket screwing things up and the new Dweb, none of my pictures transferred. The old Dweb pic upload was pretty clunky as well, so I had very few pics. I'm going to go through and refresh this thread with plenty of pics and better descriptions. Hopefully it inspires some to get out there!
At the end of July 2017 I embarked on a 15 day trip from Illinois to Colorado in my 1994 manual trans D1. Having very little experience driving stick, I figured it'd be a good idea to cram my family of 5 into a 23 year old vehicle and drive out West.
My biggest concern with the D1 was its lack of a shoulder-belt and headrest for the middle passenger. I snagged a D2 bench seat from the local scrap yard and got it properly bolted into the D1.
Day 1: Departed IL. Drove to Lincoln, NE and spent the night.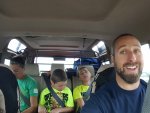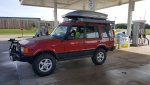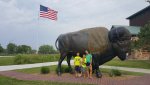 This was our basic plan. Places and features were all pinned on a Google Map. Lines were drawn in different colors representing different days travel. This was just a rough outline, all of the primary navigation was mapped and done on a Samsung tablet running AlpineQuest.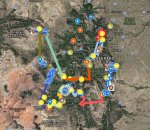 Last edited: