I am replacing the clutch master to slave flexible rubber hose on my 96 D1 with R380 gearbox. It was no problem to find the hose (LR part number NRC2211) at Rovers North. However, the large nut on one end of the hose that holds it to the bracket on the bell housing was rusted solid to the old hose. With very little to grip on one side of the hose, I decided to cut it off. I didn't expect to have such a hard time finding the nut. It is a 16m with 1.0 thread. After trips to Lowe's, the local hardware store with very large selection of fasteners, and the local Fastenal, I came up with nothing. The guys at Fastenal did tell me the correct size but that they didn't have it.
So, I came home and googled the thread size. The search indicated a Dorman spindle nut, part number 615-082 was available at O'Reilly Auto. I called the local O'Reilly. They didn't have it in stock but ordered it and it was there the next morning. I bought 2 and will attach the extra one to a new hose I have set aside for the next project.
I have since learned the Land Rover part number for the nut is most likely 2K8686L which Rimmers says is replaced by 2K8686 but have not confirmed that.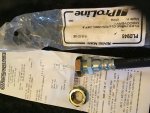 Last edited: