Thought I'd share what the PO did to the DII I just picked up. I'm not sure on the part number for the smaller radiator, but I imagine a little digging could find you something that works. It holds 2 extra quarts of coolant over stock.
Smaller Radiator that runs parallel to the main. It has a volvo thermostat housing with a 54mm 170 degree thermostat. I drove it 900 miles home and it averaged 176* with the icarsoft plugged in. The highest temp it got was 183* leaving knoxville going 80 mph uphill for 5 miles. pretty impressive and it seems to work great. Truck has a P38 4.6 in it with 95k miles on the engine. just rolled over 92,000 miles on the truck itself.
If anyone knows if this will in anyway hurt the engine/truck/ECU or cause it to throw codes, I'm all ears. It's been this way for 15k miles with no codes though so fingers crossed.
UPDATE: I have decided toswitch to a 180* thermo stat in the new year. After a lot of research, I couldn't find really anyone running that low a thermostat and would rather be in line with the conventional wisdom in this regard. I'm not getting any codes currently related to operating temp abs the engine runs very smooth, but I am keeping an eye on it with it being new to me. Biggest concerns being oil temp and proper combustion and not accidentally forcing the vehicle to run rich.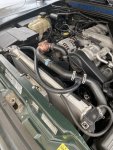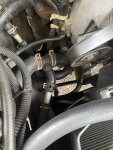 Last edited: