Hey everybody,
Some of you may remember me, I used to participate in here a lot but I haven't been around much in years. This is a long story, I'll try to be brief.
In the summer of '08 I bought this G4 from Red Mountain Rovers: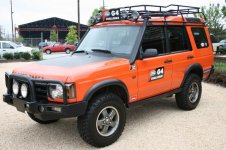 The next summer we went on our last canoeing/camping trip before we began building our new house. As we were packing up to leave, we were caught in a terrible hailstorm. The hail was the size of baseballs. We were camping at a beautiful state park called Pine Lake, as the name suggests, it had many beautiful white pine trees. Had them. The hail stripped the pines. And pummeled our G4, camper and dirt bike.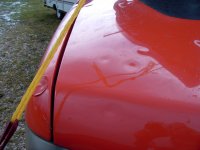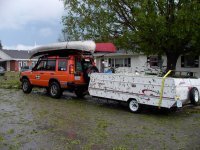 I needed to start house construction so the G4 went into storage and life went on. Several years later I saw a silver '03 at a repair shop with the telltale hood on the safety latch. I inquired and the truck had overheated. I bought it for a body panel donor vehicle. After a while I decided it was too nice of a truck to part out and I bought a junkyard engine, had my machine shop freshen it up and put it in the silver truck.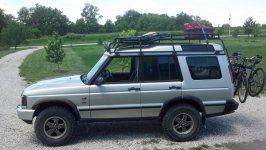 I drove this for a couple of years when it started to get hot intermittently. Because of the intermittentness it was hard to diagnose. New radiator, water pump, thermostat, and more I'm probably forgetting later, it was getting hot all the time-slipped liners.
I decided it was time to restore the orange truck. I pulled out the interior, swapped easily removable panels and sent it to the body shop for PDR.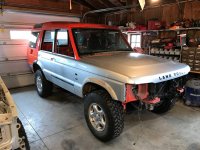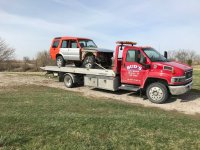 The PDR was completed (expensive!) and it was ready for paint. Then we found out my wife has cancer. The project was halted and back into storage it went. That was a couple of years ago.
Now I don't know if I will have the time or motivation to complete this project. This is it's present condition.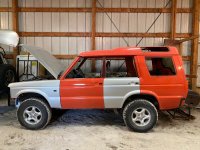 Years ago someone on here gave me an email contact of a JLR person who helped him with the provenance of his G4.
Here is an excerpt (contact info removed) from an email exchange I had with Mr. JLR regarding my truck:
Subject: RE: '04 Discovery G4
Date: Wed, 14 Jan 2009 00:17:21 +0000
the vehicle was not despatched until August 2003 and was one of a number of vehicles sent out as a promo vehicle for the USA to captilize on the 2003 event.
The email was tool large to be included in this post. I will try to post it in another post.
I an the second owner. The email shows the first owner was in Florida. The condition of the undercarriage reflects this.
I thought I would always keep this truck even after the hailstorm. Life changes. Now I don't know when I will find the time or motivation to finish this project.
For sale is the orange truck, the silver truck, all the parts that are on them or came off them including the roof rack, two snorkles, bumpers, & rock sliders. Not the canoes.
I am in Des Moines. The trucks are about 40 miles north of here. If anyone wants more photos you can go to my flicker account:
https://www.flickr.com/photos/186003175@N04/
Both trucks run & drive, but the silver one has slipped liners, as mentioned. Orange truck has always run fine. I think it has 60 something thousand miles. Undercarriage as I said is very nice.
I have no idea what the market value of this lot is worth. I would like to get $5,000 for it. If I can't get that I may hang on to it as a retirement project, or I might wait until my grandsons get old enough to get interested in such things.