Hello, This is my first post here on Disco Web
I've gotta thing for these Rovers, I'm on my fifth one, just purchased a 95 D1 3.9L with 5 spd.
How do I narrow down the possible source of a knocking noise (slipped liner, rod or wrist pin, cam shaft walking)? When the engine is warm, I can hear what sounds like a rod knock, the noise goes away above 1500 RPM. My attempts at diagnosing the cause have been to remove the individual spark plug leads while the engine is warm / idling hoping to identify which cylinder had the knock, pulling the spark plug leads had no effect on the noise. Next probing with an engine stethoscope around the individual cylinders did not narrow the location of the noise until I put the stethoscope at the base of the distributor, there I could hear the knock. I've also pulled the oil pan / sump to check the oil pick up tube to make sure it wasn't gummed up, it's clear (motor has 120K miles). It had been suggested by Will T. and Atlantic British that possibly the camshaft is bumping / walking forward and the camshaft wear button could be worn.
So, I've called around trying to find the camshaft button (part #CAM1000), nobody has one, checked Atlantic British, Rovers North and two Rover dealers. Same story, the part has been discontinued and not available.
After pulling down the front of the motor, two things I noticed. One the existing bolt located on the front of the camshaft is just a regular bolt, it doesn't have the nylon button on the end of the bolt (no indicator there ever was one on the bolt). Second, I noticed the timing chain was really sloppy. So I've replaced the timing chain, but what about the camshaft end bolt? Did all 3.9L engines use the bolt with the nylon button? In the second picture with the timing chain removed, there is what looks like a retainer plate, so is that all that is needed?.
What are your thoughts about the possible cause of the knock noise and if it's camshaft end play, any idea on where to find the camshaft bolt with the nylon button.
How can I determine if one or more of the liners are slipping?
Sorry for the long message and may questions, I'm just trying to figure this out.
Thank you, Karl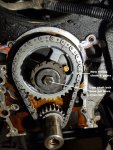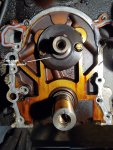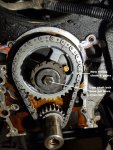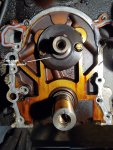 Last edited: