Drove 2600 miles round trip from eastern New Mexico to Grass Valley, CA and back to get it. NO RUST (well, actually a little hidden under the alpine window seals)
The scenery of the drive back along 395 really helped after the torture of I-10 and I-5...
I learned the CHP is very serious about that 55 MPH limit for vehicles towing trailers, even empty ones. Written warning was given and the experience made me decide to take 395 back, which was an amazing drive. So, I owe some thanks to CHP Trooper Marzano.
My tow vehicle is a GMC Canyon with 2.8 liter diesel. It was amazing how well it handled the climbs with all that weight. There was a spot in Lake Tahoe where it took everything it had but it didn't waver.
It was kind of chance that I bought it. My current full time residence is in St. Louis but I have been off work recovering from neck/back surgery. I was feeling so good only 3 weeks out I was planning to head to Iowa to buy another D1 from a gentleman who is also a forum member here. I made preliminary plans to head to Iowa and then went to see my surgeon for a 4 week check up. Well, I decided after that visit it wasn't a good idea and cancelled that trip.
So, my wife decided since I was stuck at home recovering from surgery that I could handle all the typical Mom duties. As a result, she decided to take my truck with some fragile stuff to our home in New Mexico as we are moving there in August.
She got half way and started having issues with my truck's battery going dead. She jump started it twice and refused to take it to a shop, bull headed she is... but she made it to NM. In fairness to her bullheadedness, she had a bad experience years ago with a dealer as well as an independent shop along with $3000 of our money while out of town, and now refuses to let an unknown shop fix anything until I can be involved. So, i got in her car and headed to New Mexico. We traded cars and her and my son returned to St. Louis leaving me to deal with a shop to get it fixed. I did a ton of web forum research which led me to a suspected loose wire in the engine bay fuse panel. One 10 mm nut tightened and problem solved.
The drive down was a little uncomfortable but much less worse than the discomfort I had experienced for almost 20 years before surgery. I had previously seen this D1 on Facebook marketplace. So, against "recommendations" and 700 miles closer to it than St. Louis I decided to do it. Toward the end of the journey I more understood why "recommendations" suggested not making the trip to Iowa... muscle relaxers and naproxen were greatly appreciated when I could take them.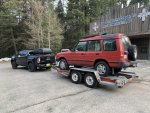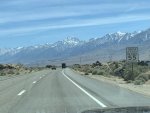 Last edited: