Hi all,
I just bought my first Land Rover, second off-roader. In all honesty, I didn't do much four-wheeling with the first one (an FJ60 I regret selling to this day).
I came from a MK7 GTI which I loved, but not even the fuel consumption can offset the lack of car payment and reduced insurance costs.
I'm well aware of the reputation that LR/RR have regarding reliability. It was probably unwise to break all the rules of buying used cars with a Discovery II.
It's a 2001 with 223k on the chassis and (suppposedly) 110k on the motor. It does not leak any fluids despite being full and has an Eaton locker in it, with a coil spring conversion all the way around. Clean title, both key fobs that work, and it even came with the window sticker!
I have named it Landy Bobandy.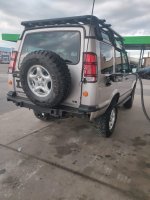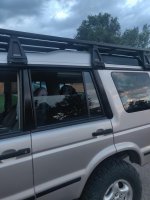 Pros so far:
Reminds me of my FJ
It's not a Jeep
Built like a tank
Can finally follow my brother into the mountains for camping
No leaks (yet!)
Cons so far:
Not happy above 70-75
Thirsty
Little voice in my head reminding me something will break soon
Any tips and feedback would be appreciated, so far I honestly love this thing. Not great for a 14-mile one way daily commute, but I'll probably get a daily eventually.
Glad to be a part of the forum!