All sold.
I have a bunch of odds and ends I'll send along to someone who can use them. $150 for everything you cover shipping, or make me an offer on anything you want individually. If you live near the Fingerlakes, maybe we can meet up and spare shipping.
You can see pictures of the parts here:
https://www.dropbox.com/sh/dotkb0q640xfkgi/AADG26b_6oH1_eCxUcB3QvHpa?dl=0
New - front cover gasket, ERR 7280
New – D2 Bosch style angle knock sensor. 0261231140.
New – D1 rear door hinge, ready for painting or use as is.
SOLD
New – GEMS crankshaft sensor housing mount, ERR3693, I thought I had a used one too, but haven't found it yet, will throw it in if I do.
New, but scuffed D2 Bosch crankshaft sensor housing mount
Used - D1 GEMS knock sensor, ERR5594, pulled working.
Used - 16 Bosch Platinum 4218 WR8DP spark plugs, one set has unknown miles, the other has less than 10k miles on them. Unknown usability, but most look pretty decent.
Used – bulb holders, look to be front turn signal D1, but probably fit other things.
Used – Carello GM headlight covers, 37940508, these work for plugging bell housing cover holes.
Used – D1 GEMS fuel pump relay ECM/ECU multifunction unit, YWB10041C, not tested.
New transmission pan clamps RTC 5733 x 4 and RTC 5734 x 2 and some bolts.
Used D1 starter, alternator, oil pressure switch, and turn signal stalk, unknown functionality, though were pulled off a previously running unit.
New D1 idler bearing.
New reman - D1 waterpump and gasket.
New D1 4.0 loaded rocker shaft assembly.
I also have a GEMS 4.0 engine with a dropped liner and a missing piston I'll take offers on separately if someone wants to rebuild it.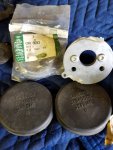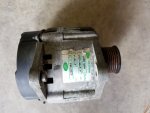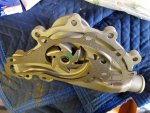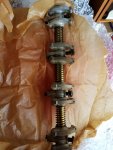 Last edited: