My 2005 LR3 4.4 has finally stumped me, and I need some expert help solving this one. Car is running great, but the check engine light is still lit.
Background- On a quick errand trip I saw the battery light come on mid way. When I got back in the car to leave, it was gone, with no other/new warning lights. A few days later, the check engine light comes on, and the Torque app is telling me it's p0560, System voltage error.
So I do some checking with the multimeter. Battery getting 14.4 to it while running, about 12.7 with the car off.
So I check the fuses for the ALT, nothing. I check the ground cable from the battery, no it's looks great and both terminals are tight. I decide to see what the NAV screen says, so I check the 753 diagnostic screen and it's is showing 13.5v while running, and no DTC codes.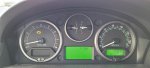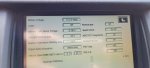 I finally jump on the internet and get led in a few possible directions by reading other people's posts and start to throw a few parts at the problem. Hoping it was something straight forward and since the truck has 175k miles and what looks like the original alternator, I started there.
Here is what I've done so far, to no avail-
New Denso 150a Alt
New H8 900cca battery
New brake light switch at the brake pedal
Checked the few grounds I could find
Checked fuses
Check wiring in passenger door sill (what a pain)
Check 3 wire plug going to Alt, unplugged and replugged back in to be sure.
Checked both the ECU and TCU behind battery by unplugging and looking for possible corrosion, both looked fine at the pins
Now I'm starting to think this could be something dumb/minor, that I am overlooking.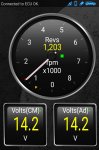 I do not own a Gap tool, but I am considering it if it will provide me a lot more info than the Torque app does. Would appreciate any insight to anything you think I might have overlooked in troubleshooting this, thanks!
Mark
Last edited: