All,
I recently sourced a rear steel bumper for my D1, it is very similar to the Rovers North version (
see images/instructions here
) requiring the trimming of the rear main frame rail extensions. I believe with only slight fab work I could preserve the frame rail extensions, however I took it upon myself tounderstand why Rovers North would recommend this approach in the first place, especially if your frame is in excellent condition (like mine). While researching I located images and videos featuring trucks from the UK which suggest that the ROW trucks did not have main frame rail extensions like the NAS trucks do. See two images below. Can anyone confirm this? I hesitate to trim these main frame rail extensions as that would provide a much larger entrance for debris/water and would weaken the overall strength of the frame ends. I suspect these were added for NHSTA rear impact or bumper requirements. Does anyone know more?
North American Truck: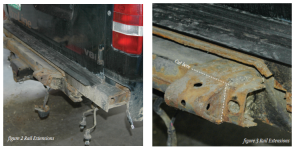 UK Truck: