Hi all,
I've posted a
couple
times
on here with questions and everyone's been super helpful. Figured I'd share a thread to show what I'm working with.
In April I purchased a D1, 300Tdi, RHD over eBay from a guy in Michigan who imports Defenders. I knew I was taking a bit of a risk but what the hell, YOLO and all that. Plus he included a 7-8min video with the post which included looking underneath. At time of purchase, had about 136k miles (being able to retrieve maintenance records from MOT is nice!)
Took delivery a week later and I was
pleasantly
surprised. I am new to Land Rovers and 4x4s in general, although my history of cars is mainly M-B & BMW so I'm used to dealing with Euro parts.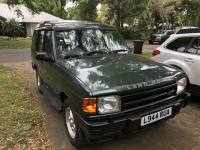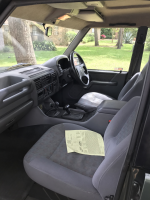 No sunroofs to worry about here!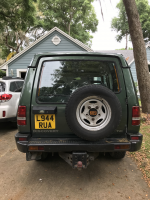 I took it to Adventure Motor-Werks here in NE FL and had it given a full, thorough inspection - chassis is good, just some surface rust in spots, it needed a new front swivel seal and a couple minor things. Ended up doing some extras "while we're in there" kind of stuff along with getting BFG All-Terrain KO2's installed. I am super happy with the results.
Turns out the Tdi already had the EGR and electronic diesel control deleted. At 50-60mph speeds I am averaging 40mpg.
The biggest complaint I have right now is no A/C was installed from the factory... we are working on sourcing the necessary parts to do a retrofit. Living in FL having the windows open is tolerable if you don't mind sweating, but longer trips really necessitate it. I've already gotten ceramic tint done which helps somewhat.
I'm planning on keeping this relatively stock. It is leaning to the right a little as it's on 26 (25?) year old springs, so I will do more of a suspension refresh but I am not planning a lift and I might even go genuine LR replacements. I've also ordered a Bajarack roof rack for some additional storage capacity.
Edit: to do items listed out…
Small leak in the left/passenger side footwell. Not sure where from
Transfer case won't shift into diff lock. I've been able to work it into 4 Lo and back so hopefully I can work it loose
A/C install
Suspension refresh
Fourby clock thermo probe in thermowell
Seals on rear windows and rear door window need replacement
Small bit of rust near alpine windows, some corners near gutter
Radio antenna replaced
Things already done:
Stereo head unit updated
Speakers updated
Fourby D1 clock installed (except I couldn't figure out how to get the prob through the firewall easily)
Complete fluid/filter replacement
Front swivel seals replaced
Timing belt changed in 2019
Last edited: