I'm selling my 1994 Discovery SE7 5-speed (R380). 98K miles, located in Milford, NH. It apparently spent most of its life in North Carolina, and it has almost no rust. Because it's a 5-speed 14CUX truck in good condition, I've spent a lot of effort to replace parts and rebuild things. I think it's deserving of that. I do need to dedicate some effort to other projects, though, so it's time that it found a new home.
Asking price dropped to $7500.
Note that neither the driver nor passenger airbags are fitted. If you want to roll the dice with a 28-year-old driver's airbag, I still have it (with the original steering wheel) and can include it in the sale. No passenger airbag available. Also, the tires have plenty of tread and have been stored indoors, but they're older and should be replaced.
Good stuff (in the last 5000 miles):
- Engine: I disassembled the top end, cleaned, inspected, and reassembled with new seals, gaskets, lifters, and pushrods. I thoroughly cleaned and flow-matched a set of injectors. Engine runs well.
- Gearbox (R380): Rebuilt completely with brand new mainshaft, balk rings, bearings, and seals. Shifts easily.
- Transfer box (LT230): Upgraded with cross-drilled input gear; installed new seals and new intermediate shaft o-ring.
- Brakes: New calipers, rotors, and pads.
- Suspension: New OEM springs and dampers.
- Steering: Installed a remanufactured/rebuilt steering box, new steering stabilizer, and new PS pump.
- Exhaust: The cat-back portion is a brand new NRP stainless system. (May need a new Y-pipe; see below.)
- Interior: Canvas seat covers from Escape Gear, a European market non-airbag steering wheel, and a Casey's Custom fabricated storage bin in place of the passenger airbag.
- Exterior: Rovertym/RTE rock sliders in almost-new condition. All five door seals are new. Windshield is new. Seals for the two fixed windows in the cargo area -- plus the seal for the rear door glass -- are new. Brand new spare tire.
- Electrics: Repaired window lift ECU. All power windows work.
Bad stuff:
- Exhaust: May need a new Y-pipe. It's driveable, but there's a leak between the downpipe and left manifold because of a fitment issue. I got this Y-pipe for free from a family member, but it isn't quite correct for a D1. I was under time pressure at the time I installed it, so I used it anyway. Unfortunately, this involved partially collapsing the right side catalytic converter housing to clear the prop shaft, and permanently plugging the downstream O2 sensor bungs.
- Interior: The headliner was in bad shape, so I removed it and painted the headliner board with bedliner. This actually looks pretty decent, but I haven't reinstalled the rear A/C vents and there are cable ties holding things together in their place. Dashboard was curled at the front edge, and the hold-down kit is now installed. The plastic strips do have some cracking, though they are doing their job for the most part. Right-hand sunshade in the front sunroof has a broken plastic clip.
- Leaks: Right-hand swivel hub seal (fairly minor.) One of the oil cooler lines was weeping as well, but I've snugged it up and it seems to have stopped.
Other stuff:
- Rear seats are in, but not fully installed. A few of the bolt holes need to be re-tapped. The seats are from a '92 RRC LSE and are in nice condition.
- Sunroof motors are disconnected and the glass is sealed shut with silicone.
- I left off a few trim panels during reassembly. In one case, this was because its plastic clips were broken. In other cases, I didn't feel the need to close off access to things like the 14CUX diagnostic plug. All trim panels will be included with the truck.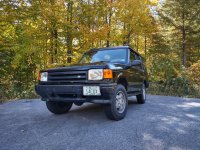 Last edited: