SOLD
This is the limited edition with electric power steering and Walker Evans shocks. There were other models with different shocks and without power steering in 2013.
It has 2552 miles and 172 hours. It was serviced by a mechanic at the end of the last season (November) with new fluids and greasing all the zerks. Overall, it is in very good shape and runs really well, no issues there. However, there are two problems to disclose:
A brand new primary OEM clutch comes with it as it needs a new primary clutch. It drives fine once you are moving, but sometimes when you are stopped in gear it will "lurch" repeatedly until you get moving again. I had the clutch rebuilt and the mechanic said to try it and see if it held up. After a couple rides it started again. I would have the clutch installed already, but the mechanic I use is doing limited work during this COVID stuff and it will be a while until he gets to it.
One of the mounts for the rear door needs to be welded. It is connected in multiple position so it is working fine, just needs to be welded where it is. I put a zip tie on it to see if it was flexing at all – the tie would have snapped. It didn't snap after a couple rides. Same issue above, just can't get it in to be fixed.
Now for the good stuff. This has a lot of great aftermarket parts and accessories. The list is as follows:
4500 Pound SuperWinch winch
Lock and Ride Polaris storage box
Twisted Stich custom seats and Bench in rear for 3 kids
5 point harnesses in front, and 4 point harnesses in rear
Doors and full graphix
SSV Works overhead stereo w/ front and rear speakers
Rear view mirror
Poly Polaris roof (the front half of the two piece roof, the rear half blew off on the trailer)
32"dual row light bar
Front bumper with 12" dual row light bar
Custom steering wheel
Anti vib adjustable bracket on passenger grab bar
Complete UHMV underbody skid plate.
UHMV Front A-Arm Guards
Tusk Rear Cage Extender with cooler rack and spare tire mount
Spare tire
Sand Tires -
Front Smoothies on red label rims
Rear STU's comp cut on red label rims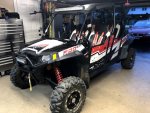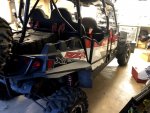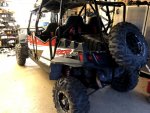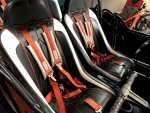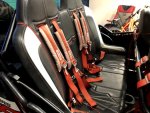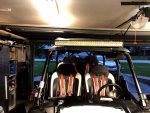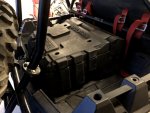 Last edited: