SOLD
2005 KTM 200 EXC - $3500
(See Video at
https://youtu.be/n4Od9aq96OM
)
Clean Titled and Plated in IL. In great condition. Have 6 bikes across two riders so we need to thin the heard. Bike runs and rides great. I don't have total hours on total bike as previous owner didn't have the stock KTM gauge on it anymore, but the bike has been well maintained with many parts refreshed since purchased. I had the top and bottom end rebuilt in July of 2017 by M&M Motorsports in Westmont, IL. At that point, I put on a Trail Tech gauge – currently has 30 hours and 400 miles on the gauge. Many parts have less hours than that – see details below. I went through it over the winter months and replaced anything that needed replacing to get it ready for quick sale.
List of mods/accessories:
Tusk Lock on Grips (New)
Tusk Handlebar (New)
FMF Gnarly (Great condition, just had dents removed with Fusion One pipe repair – no rides on it yet)
FMF Q Stealth Silencer with spark arrestor
Rekluse Automatic Clutch (Z-Start Pro)
Moose Hand Guards
Tusk Rear Disc Guard
TrailTech Endurance II Digital Gauge (Speedometer, Hour meter, odometer, clock, etc.)
Fork air bleeder buttons
Comes with stock seat and seat that was modified (shaved foam and used new cover) as a low seat and an SDG seat (very firm) that needs a cover
Aluminum Skid Plate
Clarke Larger than stock Gas Tank (3.5 Gallon) with Tusk Aluminum gas cap
Headlight and tail light
Pro Moto Billet Kick Stand
Steg Pegs
Enduro Engineering Clutch Case Saver
KTM rear brake light switch (banjo bolt in rear brake)
JD Jet Kit
List of recent or new parts:
Full top and bottom end
Front wheel bearings (New)
Rear wheel bearings (New)
Steering stem bearings (New)
Front Brake Pads (New), Rears still have plenty of pad left
Rear Fender and Tail Light Mount (New)
Sprockets and Chain (Less than 30 hours) (stock 14-48)
Rebuilt clutch slave and master cylinder
Clutch Plates (from Rekluse) (about 40 hours, clutch works great)
HD rear tube. Not sure what the front one is, never had to change it.
I did the fork seals at some point after buying the bike, don't remember the date. They don't leak so I have not changed them.
Issues with the bike:
The number plate graphics are peeling a bit. I am not thrilled with the quality of them but I don't have any other ones to put on the bike. Leave them alone, use some spray adhesive, remove, or replace. The rest of the graphics are fine.
It is not an "issue" because it works fine, but I do want to share that I built the rear tail light assembly. The plastics are OEM KTM, but it is something like $70 for the KTM rear light. I bought a cheap Polisport rear tail light and removed the lens and bulb and fitted it to the KTM plastics using a regular 1157 bulb. Works fine, but wanted to be fully transparent. I am keeping the rear license plate mount. They are like $15 online. You drill into black rear fender to mount it below the tail light.
The tires are not new. They still work great and hook up really well where we ride (Fox Valley in Ottawa, IL and Badlands Off Road in Attica, IN). Again, not an issue, but you have to judge for yourself if you want new tires.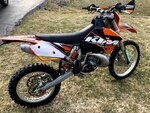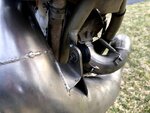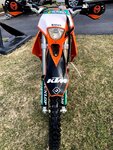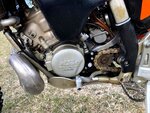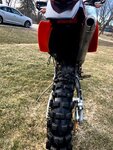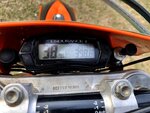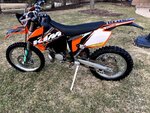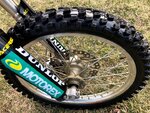 Last edited: