99D2. 162K. Backstory. Thermostat on my OO D2 went out, left me stranded 35 miles from the house. I call my Son (99 D2) to bring me a new, thermostat from the local auto parts store. 15 minutes later, we're on the interstate home, and weird as it sounds, his thermostat goes out on the way home.
At about three miles from our exit, I had a lapse in judgement and screwed myself royally by trying to cool, move, cool, move, cool, move it off the highway. Yes, I should have left it for pick up/trailering later.
The truck was gifted to us from friends (non mechanical types, tired of the constant trips to the repair shop) and after doing the HG's initially, I could tell the heads had been machined previously given the how tight the lower intake was while torquing.
Knowing the heads can only take two machining's, and having an extra set of new bolts/gaskets in the garage, I did another head gasket repair hoping the heads were still good. I even attempted to "gauge" the heads with my my best straight edge/aluminum level.
Having a D2 head gasket job down to about two/three after work evenings worth of work, I gave it a shot.
The results: P0305 Cylinder misfire, and the 99 D2's 4.0 sucking the coolant reservoir dry as evidenced by the cloud of white exhaust pouring out the back. Pull the #5 plug and yes, it's steamed clean. My bluetooth scope sees direct evidence of coolant in cylinder #5 as well.
I didn't see any cracks in either the heads, or the cylinders when completing the last HG repair. The liners looked good as well.
TLDR: I got coolant in cylinder #5.
Courses of Action in progress:
1. Leak down test kit in in the cart for purchase.
2. Got a line on a near buy $400 parts truck that "supposedly" has only had one HG job. I can pull heads, and other parts for later use, then get my money back after scrapping the carcass at my local metal recycler.
Questions for the hive:
1. Could a bad valve seal be the culprit?; if so, doesn't make sense to me.
3. Give me the list of the usual culprits.
2. What are your tips/tricks for sourcing/gauging heads from auto salvage yards?
thanks in advance ya'll.
11b4v
99 on the left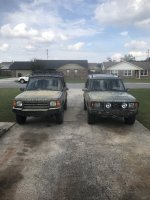 11b4v
Last edited: