I disconnected my parking brake cable so I could raise the lever to allow the shifter console / cubby box to be removed. No problem, done it a handful of times on other D1 projects.
So, I put things back together and the next step is to reconnect the cable to the parking brake lever. I can't get the cable back into the lever. The push rod that moves to release the lever is right in the way. I can't figure out how to get it back or why it happened in the first.
Sorry, the picture are kind of upside down. Any idea what happened or how to correct it?
Anyone shed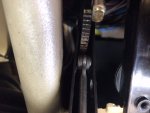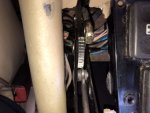 some light on this?
Last edited: