So... you know that moment when things start unravel a bit? Somehow, I don't think this fuel pump was, "replaced a year or two ago."
Yikes. Yeah, I've seen a couple of pumps that look like that. You live in road salt country?
Sadly, if you have AEL, yes you need the $360 pump.
Probably need a new locking ring, but clean that one up first before you get a new one.
Looks like you will also need to replace the quick-connectors on the fuel lines.
You can get Dorman ones that fit from O'reilly.
It looks like this: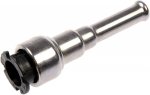 https://www.oreillyauto.com/detail/...-solutions-fuel-line-connector/800120/4257375
This may be the right one, but apologies as I did this 8 years ago and can't remember the size or part #.
Last edited: