Administrator
Staff member
I'm looking to put some lockers on the 110 and rebuild my axles with fresh seals and bearings and do D90 calipers up front while I'm in there. I've never opened up the housings, though, and I'm not totally sure what's in there. In terms of spline-age, I think this is what is probably in there now:

I have a set of RoverTracks HD CVs and half-shafts from the front of my old D90 but I have a suspicion that the ex-MOD 110 has longer CVs (and stub axles) than the D90 front axle: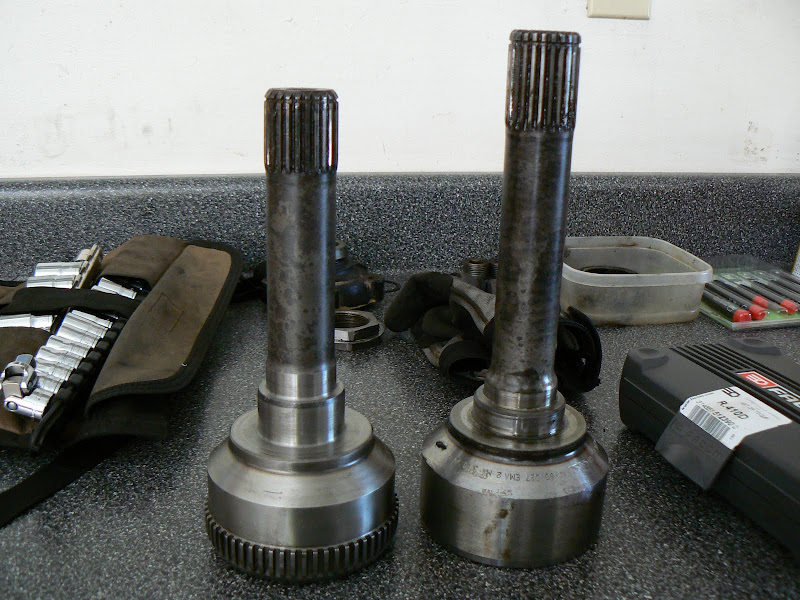 Photo credit: JSQ

​
Presumably, that means that I could probably use the Truetrac and HD halfshafts off my old D90 but I would need to find some of these longer-style HD CVs or just stick with the ones I have. Does that sound correct? Does Lucky 8 have what I'm looking for?
On to the rears.
I ran a Detroit in my old truck. It was sloppy and noisy as shit but it never failed me and worked well on the trail. I figure that I'll go for a Sals Detroit. Can I buy a complete, set-up diff like I did from GBR back in the day or do I buy a locker and the tools to set the backlash and figure out how to do the switchover myself?
For the rear axles, it looks like I need to find a set of 24-spline HD 110 axles for a drum brake truck. Sound right?